In the News
Posted on September 23, 2019
It's like rediscovering your own home.
Residents at Dow Rummel Village have been living around a construction zone for more than two years.
And now, they're seeing the results.
A new main street-style addition designed to provide hours of enjoyment and activities for residents and their guests is ready to go.
"It's great seeing the smiles on their faces," said Craig Holmen, project manager for Journey Group, which served as construction manager at risk on the project.
"They're excited, and it's a really good source of pride for us."
Residents have reason to be excited.
A stroll down main street now takes them by a small movie theater, an enlarged salon and spa, an arts and crafts studio, a workshop and a new coffee shop.
"We're all excited to be done and have it open," CEO Darla Van Rosendale said. "Our residents have looked at it as an exciting thing to have going on, and Journey has been awesome to work with."
From the start, Journey knew this project was different, Holmen said.
"We knew we were working in someone's home – a lot of people's homes," he said. "Working around residents and staff was going to be a priority for us, to make sure we kept them comfortable and safe during the entire project."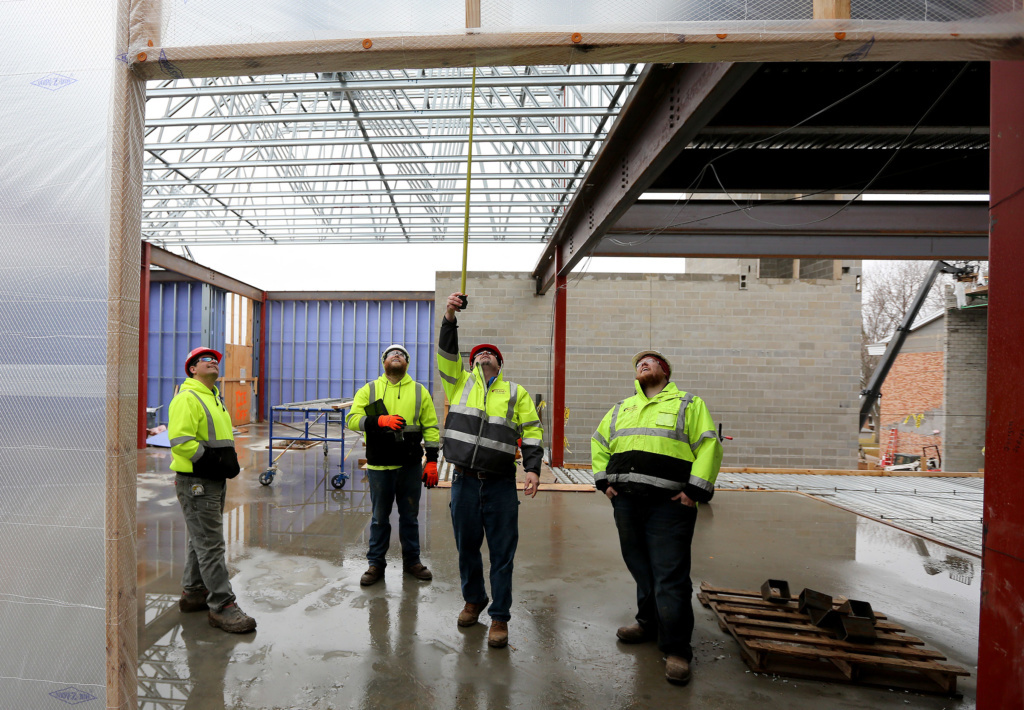 Dow Rummel is a big place. There are about 325 residents and 300 staff. The last time it was renovated to this extent was more than a decade ago.
"Craig and our superintendents were just great," Van Rosendale said. "Anytime we asked for something or had a concern, they responded."
Journey also went above and beyond to make residents feel included in the project, creating "viewing windows" in the temporary walls around the work area.
"We left ourselves in a fish bowl and let the residents be there," Holmen said. "But we had them separated by safety zones – actual walls – so they couldn't get to where there was danger."
The new main street builds on Dow Rummel's history of creating real-life, interactive "storefronts" for residents. It was the first in town to create a similar setup a decade ago, with a "business district" that includes a bank and library.
That remains, and the new "street" builds on it with features designed to be engaging. Residents and families can pull up a movie in the theater using a tablet.
They can work on hobbies in rooms designated for their projects.
And they can work on their golf swing all year thanks to a new simulator. A putting green is scheduled to be done in the courtyard this month.
"There are a lot more activity spaces," Van Rosendale said. "And on our rainy days, already we've seen guys enjoying their golf inside. It turned out very similar to our how architect TSP helped us originally design and envision it. The finished product looks wonderful."
First additions
The entire Dow Rummel project took more than two years to complete and involved 88,000 square feet of new space.
"To plan a project 2.5 years ago and have it come to fruition on time, under budget and with super happy tenants, in my opinion made it very successful," Holmen said. "We got to know each other very well and developed almost a family relationship, which made the project go so well."
Journey got a head start on the multifaceted project by dedicating extra superintendent staffing from the start to split up work.
"We were able to start the Rose Room and Gathering Hall and the Village East work at the same time, and that got us ahead, which was good because we still had to contend with weather later in the project," Holmen said.
Those common spaces, which also include a new fellowship hall and a club room, were done in 2018.
A new building including memory care and assisted living opened early this year.
"It's been great, and it's filling up," Van Rosendale said. "We hear so many positive comments about the new building. It's a light, happy place, just a joyful place is the response we've been getting."
Residents in memory care enjoy a similar layout of amenities but at a scale that's accessible for them. There's a "diner" and a "five and dime" store as well as a library, all arranged around a courtyard with heated concrete and drainage.
"So when it snows, snow will melt, and as long as the temperatures are appropriate, residents can be outdoors year-round and in a secure area where they don't have to be supervised," Van Rosendale said.
Final touches
Journey is wrapping up the final phase at Dow Rummel by making improvements to the health care center.
That will involve enlarging one of the kitchens and renovating an existing room into a dayroom for residents with a seating area and access to a courtyard. Another space is being updated for an activities room.
Crews also are taking out a traditional nurses' station and relocating it into an office, so conversations are more confidential.
"Those projects are right among the residents, and they've been very good about communicating when they're going to start, so we can let residents know in advance," Van Rosendale said. "They've also built temporary walls around the construction, so they're self-contained."
Journey's expertise in other health care settings shows, she added.
"They do so much work at Avera, for instance, that it makes them very well-versed about what to do in a health care facility. They're very good about everything from containing dust to making sure everyone stays safe," she said.
"We've gotten to know them so well, I was just saying that it's going to be like losing some of our family with them gone."