In the News
Posted on March 15, 2022
This article is originally written and published by Jodi Schwan on SiouxFalls.Business.
Somewhere within the Avera Health system, something always is under construction.
And more often than not, the construction manager at risk making projects happen is Sioux Falls-based Journey Construction.
"They are such a wonderful construction partner, and they know our expectations and what we want," said Tom Bosch, Avera'a vice president of hospitality. "In a world in which a lot of things you do are transactional, they're relational. That's how Avera works too, and that's how you build relationships."
Decades into this relationship, it has become invaluable, said Tom Clark, Avera's chief strategy and growth officer.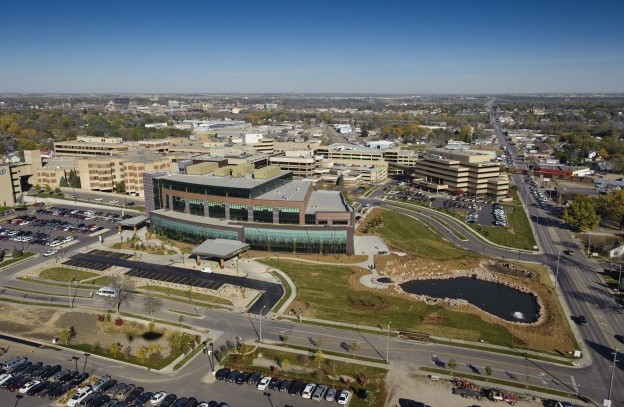 "You can't put a price tag on it when someone can walk into the mechanical room at Avera McKennan, for instance, and know which pipe is for what and why they ran it the way they did. That kind of build-in knowledge is built when you have long-standing relationships."
Just as critically, though, both organizations are aligned in their missions and in trying to provide the best health care possible, Clark continued.
"When you're working in a health care environment, especially in existing space, they understand there are standards that have to be met, including related to accreditation," he said. "They know that's part of the job and all the mitigation that goes with it. You can't put a price on experience like that. It just makes all the difference in the world."
Here's a closer look at four new ways both organizations are delivering even better and more accessible health care to communities statewide:
Avera Behavioral Health expansion
The latest project to wrap up for Avera and Journey is a 59,000-square-foot, four-story addition to Avera Behavioral Health.
It includes 46 in-patient rooms for adolescent, adult and geriatric patients in addition to a 24/7 behavioral health urgent care, observation care and partial hospitalization services.
"We recently completed our last punch list on the plaza level, and we're putting the finishing touches on the building," Journey project manager Tyson Ronne said.
"The project turned out to be a great success. We completed it more than a month ahead of schedule. For our team, it's always a rewarding experience to turn over a project that you know is going to affect the lives of others."
The new wing is named the Helmsley Behavioral Health Center, honoring generous donor The Leona M. and Harry B. Helmsley Charitable Trust. And completing it ahead of schedule literally could change lives because demand for the services keeps growing.
"It's a world-class facility," Bosch said. "With COVID, mental health is a very real thing, and Avera is putting an investment in that front and center, not shying away from it, and offering a dedicated place where people can get care at all ages, any time of day or night."
Because Journey worked side by side with Avera employees, patients and families using the existing Avera Behavioral Health Hospital structure, "there were numerous things to coordinate," Ronne said.
"From parking to taking deliveries to affecting the existing hospital space, we had to make sure pre-planning and communication were at the forefront of everything we did."
Journey understands "how to care for people and that it's a working site first," Bosch said. "Safety to them is paramount. They do a great job from beginning to end keeping not only their people but also patients, visitors and staff safe. We timed the addition so it didn't connect within the hospital until the very end when we went through the wall, so it was a very purposeful approach."
Avera Brady addition and renovation
Those needing long-term care in the Mitchell area soon will have a new and updated option.
Journey is working on an expansion and renovation at Avera Brady Health and Rehab, including 18,000 square feet of remodeling – most patient rooms – and a 4,350-square-foot addition that will allow for hospice care.
"We recently turned over the first phase to the facility, and they were able to move patients into the remodeled rooms," Ronne said.
Working through construction, especially demolition, has involved close communication with the Avera team, he said.
"Our coordination with them has been very important to make sure we are affecting their day-to-day operations as little as possible."
The project is on track to be finished by July.
"Again, this gets back to allowing people to access the care they need close to home," Bosch said. "It's part of our mission to meet people where they're at and provide care close to where they live."
Avera Medical Group Family Health Center at Dawley Farm Village
The growing east side of Sioux Falls soon will have more health care options close to home. A new three-story, 86,000-square-foot clinic is under construction on the south end of the Dawley Farm Village development at 26th Street and Veterans Parkway.
It will include an emergency department, urgent care, imaging and a variety of primary care services.
"We recently started precast, which is a driver to get our building shell complete and the building dried in," Ronne said. "We worked through design challenges on the exterior shell and actually started our interior fit-up work, understanding we would have to temporarily shelter the entire building to be able to move forward."
For Avera, the medical center represents moving forward in a part of the city where it has had a smaller presence nearby for years.
"There comes a point where you say the time is now," Bosch said. "There's tremendous growth on the east side, and our friends in southwest Minnesota and northwest Iowa also come into town from that direction, so it's just a prime area and a good time for expansion."
The building will be similar in scope to Avera's location on the west side of the city at 26th Street and Marion Road.
"It's almost like two bookends," Bosch said. "So the facility will include a free-standing emergency department and all the services, including gynecology, internal medicine, pediatrics, urgent care, dermatology and some shell space for future growth."
The project is on budget and on schedule for a January 2023 opening.
"Within a couple weeks, we will be installing drywall on second floor, and our exterior work will continue for framing, sheathing, weather barrier and curtain wall," Ronne said.
Avera Gregory Hospital and Nursing Home
Avera's investment in facilities also extends in far southern South Dakota with a major project in Gregory.
A 63,000-square-foot new hospital is replacing an aging facility, including a 17-bed inpatient wing, clinic, emergency room, imaging facility and helipad.
Additionally, a new 27,000-square-foot nursing home will be able to accommodate 30 long-term care residents.
"We began both these projects at the same time in the summer of 2021," Journey project manager Brent Smith said. "The roof and storefront on the hospital are completed, glazing is installed, and we're moving toward drying it in. We anticipate completing exterior finishes on the nursing home."
The project is "progressing well" and slightly ahead of schedule and under budget, Avera's Clark said.
"So that's always a good thing," he said. "The community has shown great support for this project, exceeding Avera's fundraising goal and raising $3.5 million. It just shows the people in this area value having health care close to home, and they're willing to share in the process to make it happen. We're very excited to bring this to them."
Much of the existing hospital's equipment is being utilized in the new hospital, so it will need to be moved and installed.
"That's a unique challenge, and it required detailed and extensive coordination between the owner group, design team and our team at Journey," Smith said.
The project is on track to open both the hospital and long-term care center by the end of the year.
"We appreciate Journey's experience and knowledge in this project," Bosch said. "It's been exciting to watch them grow and take on other major projects in Sioux Falls and statewide, but they continue to be really committed to Avera and making sure our projects continue to move forward."
Link to original article by Jodi Schwan:
https://www.siouxfalls.business/building-together-avera-journey-reaching-milestones-on-four-major-projects/