In the News
Posted on January 04, 2022
This article is originally written and published by Jodi Schwan on SiouxFalls.Business.

You name it, this company likely built it in the past year – from major office projects to massive warehouses, medical buildings, roads, bridges, banks, food production facilities and homes.
As Journey Group has grown and diversified, its project pipeline provides a unique glimpse into what's driving business regionwide.
We sat down with CEO Randy Knecht for a look back on a busy year and a preview of what's to come.
With 2021 just behind us, big picture what kind of a year was it for Journey?
We started the year with what I'd call a little COVID hangover. It took a little while to get ramped up on the commercial building side because of projects that had been delayed in 2020. We had a good year in 2020 because of the projects that were already in progress, but we had about seven large projects that were to start in the second half of 2020 and were pushed to 2021. It's very different coming into 2022 because we have multiple large projects driving our activity. We're projecting a very strong year for 2022, another record year for us.
What are some of the projects driving that?
Of course, we have the exciting, major expansion of Cherapa Place downtown, so you'll be seeing and hearing much more about that as the year goes on. We also have some major projects with Avera — their east-side clinic, a new hospital in Gregory with a nursing home — and we're starting a project for CCL Label in 2022 on land we sold to them just south of Jefferson High School. We're building an expansion for SDN Communications at their data center.
And then we have major projects continuing, including the expansion at Furniture Mart, finishing the USD Health Science Center and the interior renovations downtown for The First National Bank.
Journey has multiple business units beyond Journey Construction, can you update what's driving activity in each of them?
Black-Top Paving had their biggest year ever, and what's really helped them is not just doing more asphalt paving, but they also added concrete services and crews, so we're doing curb and gutter and some flat work, and the diversification has been really great.
Sioux Falls continues to grow, which means more commercial paving projects, and Black-Top has done a really good job working with developers. They've done a lot of work with Lloyd Cos. and Bender Cos. maintaining parking lots within apartment complexes, which has been a great growth area, as well as property owners such as Great Western Bank with multiple properties. Looking into 2022, the Black-Top Paving team is excited to keep growing property maintenance relationships into long-term partnerships and expanding upon their already fantastic team culture.
At SFC Civil Construction, much of the work was on the eastbound lanes on Interstate 90 between Montrose and Salem. We had five structures on that project, which took several teams to complete. There were two new bridge structures, a cast-in-place box culvert and two bridge repair projects, about a 17-mile stretch. So they had a nice year.
They have some winter work as well, which is always good. They are doing some work at Smithfield and working to fill out their program for 2022. They recently picked up a project on I-29 near Brookings and the westbound structures on the same stretch on I-90. They'll be off to a good start for the year.
At Ainsworth-Benning Construction on the west side of the state, the story was similar to Journey Construction with some projects delayed in 2020 as well, and now their backlog is as large as it's been since we acquired them in 2016. They have a very optimistic, diversified outlook for 2022. They're continuing to grow work on the civil side; they've done a couple developments in Spearfish and the surrounding area, residential developments where they've done curb and gutter, and paving. And they're working on multiple bank projects, including a particularly large one that will carry into 2022.
At the beginning of the year, you announced the acquisition of two new business units in North Sioux City, including a residential construction company. How has activity been tracking there?
We originally were looking at getting into food production-related construction through MBW Construction and Engineering. Then, as we got to know them and what they've done on the residential side in Dakota Dunes under the name Brown Wegher, acquiring both business units made sense for us. They're building 30 to 35 homes, and they did that again in 2021 and expect to in 2022. We have a new leadership team in place, and we're starting to build in Sioux Falls.
We have four homes under construction now, a couple in the Harrisburg area and in the Arbor's Edge area and the far east side. We will be launching a new name and brand soon for the residential operations, so stay tuned for that!
How is the food production construction side progressing?
They're doing well too. The work is more on a national footprint, so they're looking at work in Washington state, Arizona, Pennsylvania, Ohio, Texas, and they're starting a project in Denver. There are a lot of opportunities whether it's with protein plants or the increasing demand for cold storage facilities.
So really across all our business units, there are just really positive outlooks for next year. From the conversations I've had with designers and other contractors, work isn't the issue. There are a lot of projects out there and being talked about for the near future. It's not the work; the challenge is the scarcity of resources.
How's the hiring situation at Journey?
I think we've fared pretty well. We still don't have all the people we need, but I think we've done OK compared to other companies. It's affecting all the trades, so we see it in the electricians and plumbers, sheet metal workers, roofers, and it's not just construction; it's essentially every industry.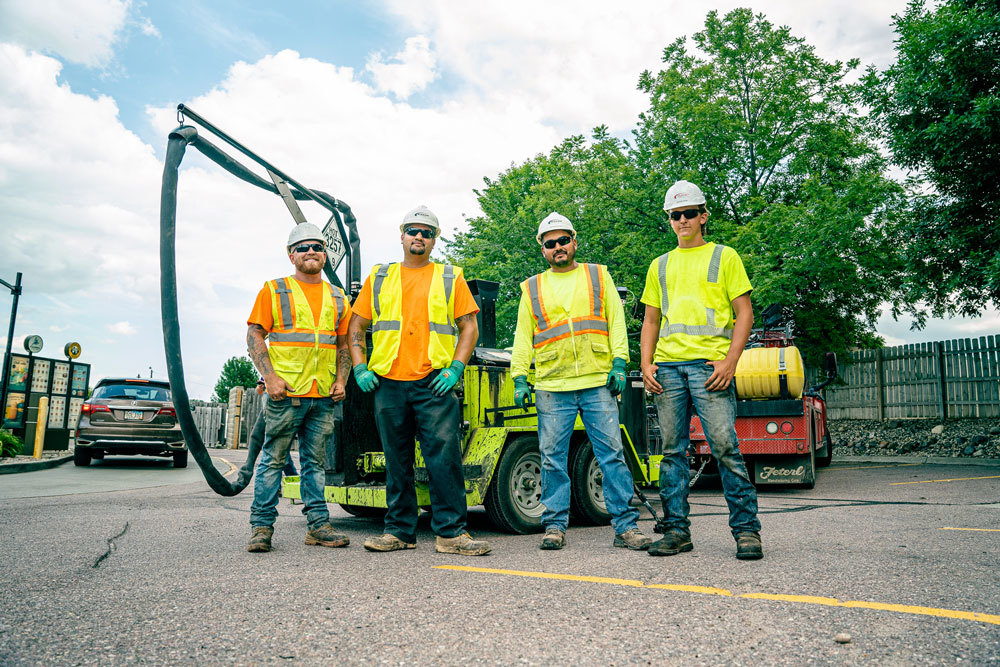 I believe our focus on culture and leadership development has really helped us getting through it. I think we've done a lot of things that have helped bring exposure to what it's like to be a part of the Journey team, including our partnership with SiouxFalls.Business. We're getting comments in the community. They're seeing our brand consistently and can see how we are improving the community and lives. We're fortunate to have a great marketing and communications team helping tell our fantastic stories of positive impact.
How have you been navigating supply chain issues? Is there any relief in sight?
We're hoping so. Nobody can say for sure when in 2022 we will be able to get through these issues, but to this point we've managed them to the best of our ability. For the long lead times like steel and precast, you just have to plan better and procure earlier. It can be the smaller materials that aren't long-lead items that you just can't control when it's going to show up, like doors and windows that are critical to a project. That's what's being delayed. Through COVID, just-in-time delivery strategies have given way to early procurement to be sure you have it when needed.
Have you made adaptations because of it?
We have. For instance, with the Cherapa Place expansion, instead of traditional steel and precast we're doing cast-in-place post-tension concrete structure for the 10-story office building and three-story 500-plus-stall parking structure. The other two buildings will be mass timber, similar to Railyard Flats, which I'm really excited about. We try to procure early or make modifications to the design to use different materials where we can.
What are you anticipating for pricing in the coming year?
It's hard to say exactly. Anecdotally, as we're hiring people to come into the organization, wages have gone up about 10 percent or more. And then you get wage compression and need to bring up your existing team. And as I've talked to other business owners, they are experiencing the same thing. The biggest impact on pricing relates to labor, whether it's our direct labor or labor involved in the production of construction materials. I'm hoping to see the labor participation rate return to pre-COVID levels.
You've also got a construction project coming up within Journey itself. What will that entail?
We're putting an addition on to our office starting in the spring that will not quite double our size because we're full. We don't have one additional office space right now. So our hope is to move in by December. When we moved into this building in January of 2016, we hoped it would last 10 years, and we didn't quite make it six.
Link to original article by Jodi Schwan: https://www.siouxfalls.business/journey-ceo-major-projects-ongoing-growth-add-up-to-projected-record-2022/