In the News
Posted on November 16, 2023
This article was originally published by Jodi Schwan on SiouxFalls.Business
Growth, a hard stop for moving and ultimately the weather all factored into a major project with a definitive deadline.
For Scherer Inc., which is starting to move into its new 105,000-square-foot headquarters at Foundation Park in northwest Sioux Falls, that goal was met.
"We knew as soon as the space was available, they needed to get in," said Seth Lukonen, project manager for Journey Construction, a division of Journey Group.
"And regardless of the start date, we needed to move them in before the weather turned this year because their equipment is 20,000 to 70,000 pounds. So we made sure their production area was ready for them to move as we wrapped up construction activity."
Scherer Inc., a manufacturer of grain processing solutions, had five employees when it moved into its initial building in the Tea industrial park in 2001.
It's now at 62 employees in Sioux Falls, with another handful in Idaho where the company made an acquisition two years ago.
Scherer serves the feed, oilseed and forage processing industry. It was founded 29 years ago by Bob Scherer as a business to recondition mill rolls and since its acquisition has expanded into working with large flour mills nationwide.
"We see potential and growth coming up," president and CEO Jason Schiebout said. "This will give us the opportunity to diversify into other markets, just by giving us more floor space and really getting all our people in our Sioux Falls location under one roof."
From the beginning of the project, Scherer wanted to be closely involved in the process, Lukonen said. Journey Construction's approach accommodated that.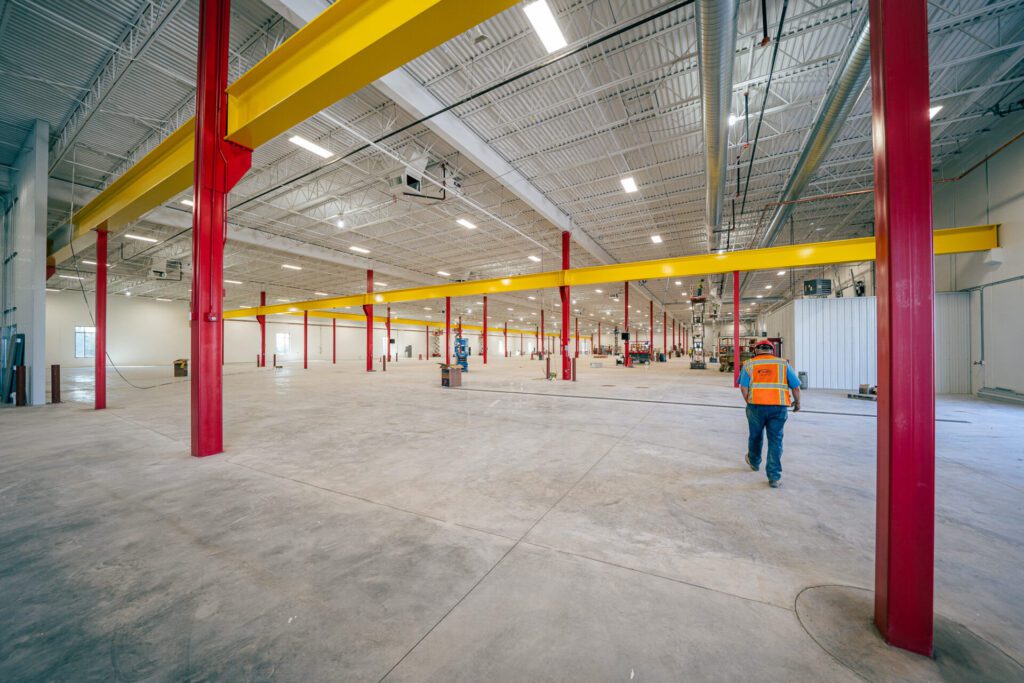 "We frequently communicate with clients on every project, so our standard meetings achieved what they were looking for. We also worked closely with Scherer on the front end about what we needed to communicate to the city of Sioux Falls because that was key in allowing us to meet our turnover deadline," Lukonen said.
Journey gained a clear understanding of Scherer's production needs, equipment and construction timelines and then reached out proactively on the front end of the project to city officials to talk about turnover requirements.
"We talked through what was needed from an inspection standpoint, from a public safety and worker safety standpoint," Lukonen said.
"We have, for a short time, their employees working side by side with ours, so it's important that our building inspector be brought in early and that we had conversations to ensure that everything was ready when they needed to sign off on it. This is becoming more common in construction, but partnering with the city and ensuring they know what we know and there are no surprises in the end is key."
While site preparation started in September 2022, footings and foundation work began in November, and from there, the project stayed on schedule and on budget.
About halfway through, Scherer also made an adjustment to the design – taking what was intended to be cold storage space and turning it into additional production areas.
"They did a great job planning and looking at the evolution of equipment layout and traffic flow within the facility, and then because we were all regularly communicating, we were able to adjust the plan and still meet their timeline," Lukonen said.
It was "a big change," Schiebout said. "But they were able to accommodate it. Journey Construction has been good on their timelines and communication, so the process has gone really well."
The building is about 90,000 square feet of production space, with 15,000 square feet of office, which will finish up work last but still before the end of the year.
In the meantime, Scherer is moving in its heavy machinery.
"We actually started way ahead of schedule. We're moving three or four semis a day of inventory, and then it's three days of moving machines, and the big stuff will be done," Schiebout said. "We'll be just fine moving out of our buildings on schedule."
The early planning and communication paid off.
"Turnover is stressful enough for the owner, so our plan was to align resources on the back end, so all they need to do is focus on their move and not on construction activity and the city," Lukonen said. "That's what we do. That's what we specialize in."
For a business that began in an office built for two people that now holds 20, the new location offers unheard of room to grow.
"We built a really big cafeteria and training room that opens to seat up to 100 people at once," Schiebout said.
"We have a company meal once a month, and right now, we set up tables and chairs among the machines, and it's hard to communicate and interrupts production. Now, we have room to do that, we have a larger R&D area and engineering, and we can double our shop space yet again. We can add another 90,000 square feet, but we built the office big enough that even if we double in size, we won't have to add on to the office."
Plus, the Foundation Park location offers easy access to the interstates and close proximity to where the company has work done on its trucks.
Working with Journey Construction to achieve Scherer's vision "has gone really well," Schiebout said. "All the subcontractors they used, that whole experience has gone really well. I've already had customers, corporate groups reach out about using our training room if they have an event off-site, which we will offer up for free. We just never dreamed we'd be the company we are today. This is a big investment for us, but it's an investment in expanding into the future."
To learn more about Journey Group's portfolio of projects and connect on your future needs, click here.
To view the original article, please click here.