Posted on December 28, 2022
The new addition wrapping up construction at Journey Group's headquarters is a strong symbol representing the activity that's occurring and upcoming at the full-service construction company.
"I think we have about 25 positions we're trying to fill right now that will move into that space next year," CEO Randy Knecht said. "Plus, we've outgrown our current building to the point where we have one of our teams across the street in one office, and another group is located on the west side of Sioux Falls, so it will be great to have everybody back under one roof again."
The 16,000-square-foot addition to the office at 4500 W. 58th St. is on track, and crews are moving in furniture now.
"It's really exciting," Knecht said. "There will be more offices and workspaces than in our original building, plus a couple large meeting rooms and dedicated space for our Journey Construction, SFC Civil Constructors and Black-Top Paving divisions. They'll have their own meeting rooms to use for collaborating on projects, so everybody is looking forward to that."
Going into 2023, the project pipeline looks strong. At SFC Civil, for instance, "the team had a banner year in 2022, and pretty much the entire program for 2023 is booked, which is great to see civil projects in such high demand," Knecht said.
"We have the 41st Street bridge on I-29 and 41st Street that will start in the spring. We've been working on I-90 the last couple years and have another stretch coming up from Humboldt to Buffalo Ridge, plus a project in Day County, located in the northern part of the state. SFC Civil is in really good shape, and we're being very selective and strategic about which additional projects we decide to pursue."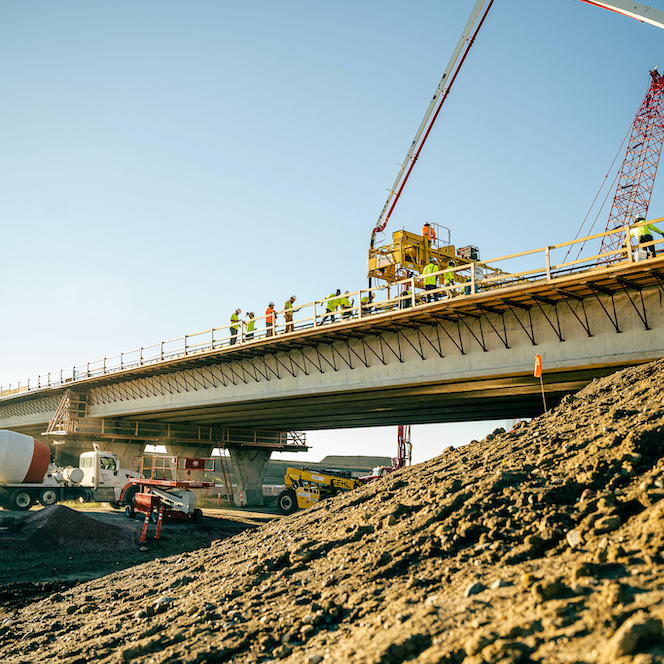 "There has been a lot of funding available for public projects, combined with the growth of the Sioux Falls area, and that's really good for us because it allows our crews to work in their own backyard and go home at night."
It's a similar story at Black-Top Paving, which typically starts the year with a fairly blank slate but instead is beginning 2023 with a backlog of work.
"Black-Top Paving is starting off with an overlay for the city of Sioux Falls on Cliff Avenue between 12th and 26th streets. They have quite a few smaller projects that add up to a fair amount of work going into the year," Knecht said.
"The Black-Top Paving team has added more services the past few years, allowing them to fully provide solutions all year round, and are still looking to take on more parking lot maintenance clients in 2023," he added.
On the commercial construction side of the business, 2022 brought the completion of some major projects, and 2023 will bring the continuation of others.
Journey Construction recently wrapped up a major retail and warehouse addition at Furniture Mart USA, a new hospital and nursing home in Gregory and Avera's new east-side Sioux Falls medical center.
One of the large projects Journey Construction is working on is the expansion of Cherapa Place in downtown Sioux Falls, including a 10-story office and condominium building that has been under construction throughout 2022.
"The parking structure is finished that will support the development, and we're working our way up the exterior of the office building with glass and precast. We have a few floors left before it's completely enclosed, which will happen in early 2023. Then, we'll be completing the build-outs of the tenant spaces and condos on the upper floors," Knecht said.
"We have a couple of floors where we're starting to do interior framing and getting mechanical items in place. We'll finish the building by 2023 while continuing to work on two mass-timber mixed-use buildings that will flow into early 2024."
While Cherapa is "a significant part of our plan for 2023, we also have other large projects," he continued. "We'll be starting the DSU cyber campus in the spring, and we have the brand-new Tri-Valley High School, where we started site work this fall and will pick it back up in the spring as well."
Other substantial projects for 2023 include an aquatics and wellness center at USD as well as new headquarters for manufacturer Scherer Inc. at Foundation Park in northwest Sioux Falls.
On the west side of the state, Ainsworth-Benning Construction, a division of Journey Group, also had a strong year in 2022.
"Their year was driven by significant bank projects, including Security First Bank in Rapid City, which is a large project wrapping up in 2023. The other is Pioneer Bank in Spearfish, which is also getting close to wrapping up," Knecht said. "It's one of the best years they've had since we acquired Ainsworth-Benning back in 2016, so it's been very positive."
Other recent Journey acquisitions also are showing promise, including MBW Construction, which specializes in construction for the food production industry and other industrial clients.
"It's a significant opportunity for us – almost like a startup," Knecht said. "They have a large poultry rendering project in Georgia and two large projects in Texas with Tyson, so we feel like it has momentum to continue to grow and provide diversification for us. We have construction focus in health care and education but saw food production construction as a high-growth area in the future, and we're excited about it."
Journey's new residential division, 1J Homes, also has long-term promise despite headwinds in the overall industry, he added.
"It's a tough market with interest rates rising and a slowdown in demand," Knecht said. "We're still selling homes, but right now our plan is to focus on custom homebuilding. We do have some custom builds we're doing in Sioux Falls and Sioux City starting in the spring, in addition to some homes for sale in Sioux Falls and near Harrisburg. So we'll continue to aggressively market those and then hold off on speculative building until we see demand coming back."
Journey also continues to focus internally on supporting its team and positioning itself as an employer of choice.
"Our HR team is working hard to fill our needs for our open positions," Knecht said. "We look forward to welcoming new employees and are excited to see them fill their roles within the company."
"Prior to COVID, we had great momentum with an internal leadership development program, so we're refocusing on that in the coming year and bringing together teams of leaders, from those in the field to those in areas like accounting, IT and HR to work on leadership development. I'm excited about that and think it will be a differentiator for us."
Another differentiator is the way Journey Group listens to its employees and gives them a voice through culture surveys. As a direct result, the company is rolling out new benefits in 2023, which include a boot allowance for field workers, eight paid holidays, parental leave, increased PTO and more.
Furthermore, the company also is looking at how it can better align data analytics and technology to make strategic decisions.
"With our current backlog and prospective projects on the horizon for 2023, we anticipate steady growth. It may be at a slower pace than the last few years, but we are already anticipating 2024 and 2025 to be strong again," Knecht said.
"In the past when large project requests slowed down a bit, we had an increase in requests for addition and remodel projects. We have a specialized team for this type of work and would welcome more opportunities for them to help businesses looking to renovate or expand."
To view the original article, please visit:
https://www.siouxfalls.business/with-major-projects-work-booked-already-journey-approaches-2023-with-plans-for-growing-team/