In the News
Posted on September 13, 2022
This article is originally written and published by Jodi Schwan on SiouxFalls.Business.

Some people talk about building bridges. This team literally does it.
And that's kept SFC Civil Constructors, a division of Journey Group, plenty busy this season.
Up and down Interstate 29 and from east to west along Interstate 90, new construction and bridge repair work has filled the 2022 spring and summer.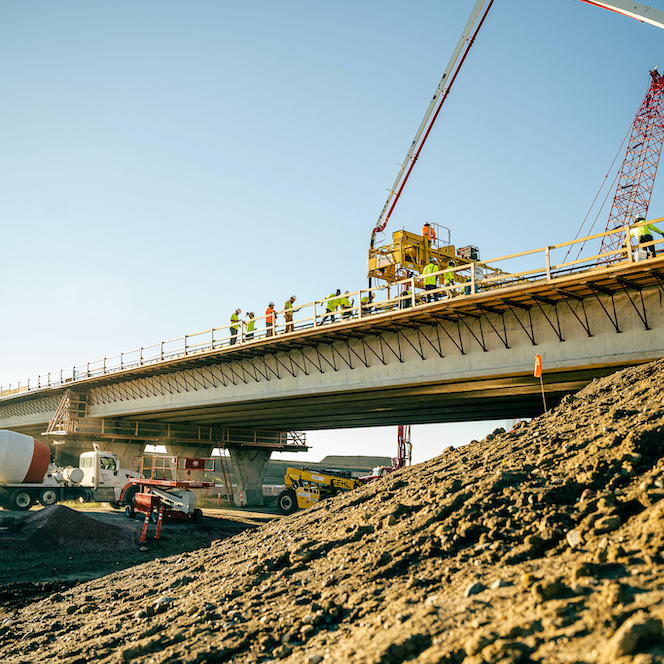 "We're about 70 percent done with a large new interchange bridge in Brookings, led by general contractor Bowes Construction, with the deck poured and completion estimated for this fall," said Jared Gusso, SFC division leader.
"And we have two new bridges wrapping up on I-90 at Salem to Humboldt, plus two repairs there and down on Highway 42, from Parker to the James River, we've done three repairs."
In addition to their smaller jobs, which also includes work in Aberdeen and Garretson, SFC Civil Constructors is keeping projects close to home as well, with a large, unique project that involves building a new collector well for the city of Sioux Falls, located a couple miles north of Renner.
"That will bring in new incoming raw water for purification and eventual use in the Sioux Falls water supply," Gusso said. "It was an interesting project for us. These types of projects don't happen often."
Bridging the Winter Gap
There's also not much of an "off-season" for this team. Throughout the winter, SFC Civil Constructors works on a large range of structural, transportation, sanitary and environmental construction projects of all sizes, building everything from highways and bridges to energy recovery systems and water treatment plants.
"We work through winter and plan to do so again this year," Gusso said. "It actually works really well in some cases on the rivers. Everything is frozen, so it's easier to get equipment in and heat the concrete when you're down in a hole. It doesn't take much to put a tarp over it, use a heater to keep the concrete warm, and keep our crews on board and busy."
In the winter of 2021, SFC worked on a bridge replacement in Brookings County that ended up being done by July 4.
"They were super happy because the traffic counts are lower in the winter and we only interrupted planting season for farmers and not harvest," Gusso said. "This year we have a large box culvert in Day County we're planning to work on through the winter. We often do a lot of prep work under bridges like welding and concrete jacking pads so we can hit the ground running in the spring."
The coming winter season will bring yet another major project in Sioux Falls, as SFC works on the 41st Street bridge as part of improvements to the interchange and surrounding roadways – lasting into the spring and summer of 2023.
"We have some welding underneath where we won't interrupt traffic and can get it prepared for next spring," Gusso said. "But it will be all summer. We have to widen it, take off the deck, then put a wider deck on and paint the girders."
A Solid Team Foundation
SFC Civil's strong team foundation is tight-knit, with many individuals who are honest, hardworking, and dedicated to going above and beyond, both in the office and in the field. Leadership within SFC Civil also provides a support system that encourages team members to pursue both professional and personal passions.
The division, Gusso said, is also growing its team.
"We're hoping we can keep everyone currently on the team and grow it even more to support our incoming work," he said. "The work is out there. The state and county and cities have good programs and there's a lot going on."
"We're constantly moving from job to job, so you get a change of scenery, you get to be outdoors, work with your hands, and gain unique experience," he said.
"It's rewarding to see the final project knowing you've helped people get where they need to be. We once did a project near Murdo where the detour for farmers and students to get to school was 80 miles one way. When that structure was rebuilt and safe, we cut their time from 80 miles to 10 miles twice a day. That shows how what we do makes a difference. It's a big deal. People don't always think of it that way but keeping traffic flowing is very impactful."
If you enjoy working on different projects and making an impact on people's lives, SFC Civil Constructors has many career opportunities available. Visit https://journeyconstruction.com/careers to grow your career at Journey Group!
Link to the original article on SiouxFalls.Business:
https://www.siouxfalls.business/from-bridges-to-collector-wells-growing-team-takes-on-broad-range-of-work-year-round/