In the News
Posted on September 28, 2022
This article was originally written and published by Jodi Schwan of SiouxFalls.Business
A Tea-based company that has grown rapidly in recent years is building its new headquarters in northwest Sioux Falls.
Scherer Inc., a manufacturer of grain processing solutions, had five employees when it moved into its initial building in the Tea industrial park in 2001. It's now approaching 80 in Sioux Falls, with another handful in Idaho where the company made an acquisition last year.
Scherer serves the feed, oilseed and forage processing industry. It was founded 28 years ago by Bob Scherer as a business to recondition mill rolls and since its acquisition has expanded into working with large flour mills nationwide.
All areas of the business have grown to serve major players in agriculture and are driving the expansion, said president and CEO Jason Schiebout, who became a partner in 2011.
"We thought we were really crunched two or three years ago and worked out a lot of processes and efficiencies and were able to gain enough to get us by to this point," he said.
Renderings by JLG Architects
The new $24 million building at Foundation Park will be near the Amazon fulfillment center that recently announced it plans to begin operations in the coming weeks.
The initial building will includes 90,000 square feet of manufacturing space and 15,000 square feet of office, with enough land to nearly double in size as needed.
"The momentum of Foundation Park was really a draw to the site for Scherer," said Ryan Tysdal of Van Buskirk Cos., who represented it in the deal. "Scherer is a first-class operation. Being part of such a quality development is a perfect home for them. Bob (Mundt), Dean (Dziedzic) and their whole team at the Development Foundation were fantastic to work with. They were all-in on bringing this deal to fruition."
After looking at where employees live, Schiebout said the company determined it was "almost a zero wash" for how collective commute times would change, and proximity to interstates 90 and 29 was a selling point.
"And the way the lot lays out is how we wanted to have our product flow through the shop," he said. "We need a rectangular-style building with shipping on one end, and this does it for us."
Every month, he gathers his team for a meal and to share information, and "in our existing facility, we're literally setting up in a shipping bay," he said.
The new space will include a large training room and break room.
"We are very fortunate how we've been able to retain and recruit employees, and we try to treat our employees differently," Schiebout said. "It's nice to give them burgers and brats, but they're there for the message. (We tell them) how we're doing, what do the next 30 days look like, what does the next year look like. And most of our employees come through internal employee referrals."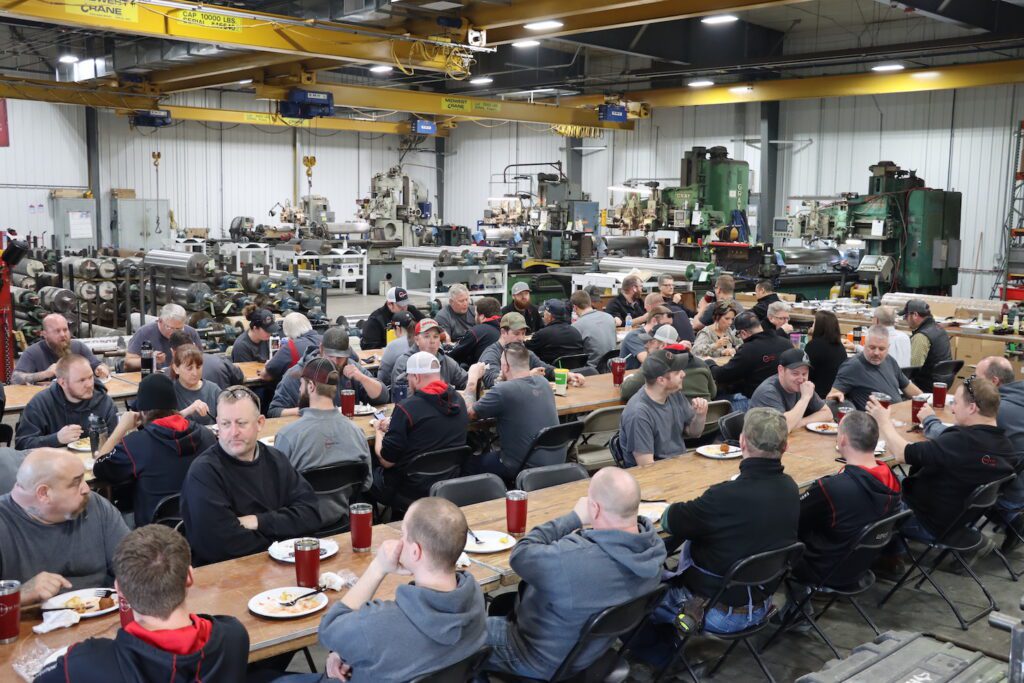 JLG Architects and Journey Construction are the project's architect and general contractor. The hope is to close on the new building around Nov. 1, 2023. Scherer owns multiple properties in Tea from expansions over the years. One building is sold, and another is for sale.
For Foundation Park, the deal represents landing the sort of business envisioned when the area was developed, said Bob Mundt, president and CEO of the Sioux Falls Development Foundation.
"We're very excited. It's great we can keep them in the region," he said. "Those are great jobs. There's a good company that's expanding, and that's exactly the type of target we want for Foundation Park."
Scherer's purchases leaves limited non-rail land left in the first phase of the park, which still has multiple larger sites with rail access. The north side is being developed on schedule, with streets scheduled to be done early next year.
That's where CJ Foods announced plans in 2021 for an Asian food production facility, which Mundt said is moving forward, albeit "at a very slow pace."
"We should see some movement in the next 30 to 60 days," he said. "I think their plan is to get everything designed and ready to go and next spring get a spade in the ground and start doing some work."
Link to the original article on SiouxFalls.Business:
https://www.siouxfalls.business/fast-growing-agribusiness-company-to-build-headquarters-at-foundation-park/